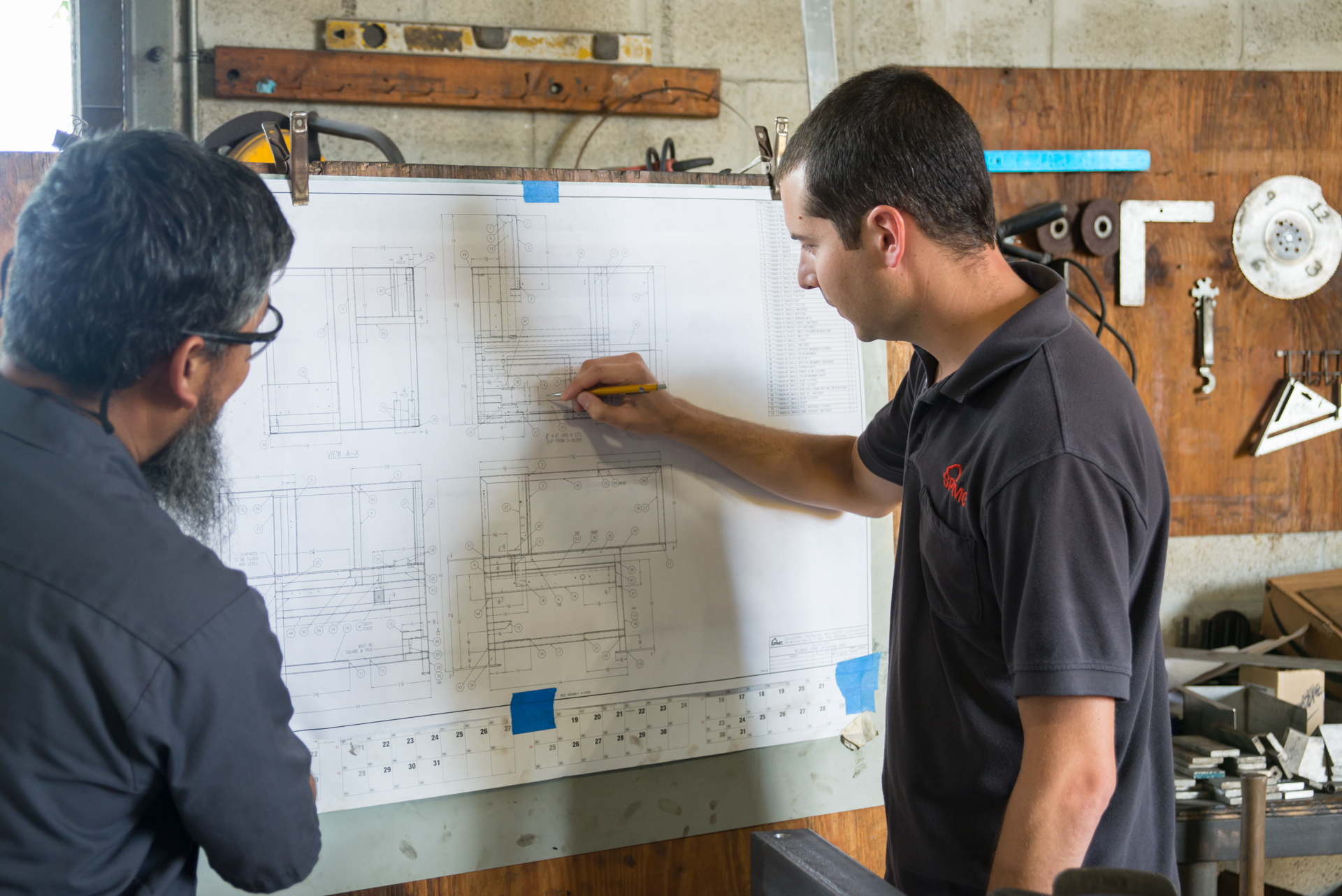 A forward thinking company that's proud of its heritage and its achievements
One of the nation's foremost packaging equipment manufacturers, Southern Packaging Machinery Corporation has been dedicated to the production of exceptional machinery since 1975.
SPMC machinery can be found throughout the packaging industry, with the resulting packaged products being sold in big box stores, wholesalers, and retailers.
Read More
How We Work
SPMC focuses on keeping machinery designs simple and sturdy. The unique combination of superior design, standardized components, and efficient construction enable SPMC to furnish its customers with high quality machinery at competitive prices.
Automation
SPMC utilizes top-tier PLCs and HMIs to reduce downtime and provide flexible user-friendly control of machine functions. Our standard HMI programs contain I/O monitoring screens for sensors, switches or encoders and restricted access I/O force and timing screens. A maintenance technician using the functionality of these screens is able to troubleshoot I/O problems and change the timing of most functions on the machine without hooking up a laptop. Additional controls are provided, as necessary, to perform special functions or for control of servos, specialty drives and other accessories.
Southern Packaging Machinery is a family owned business started by the current owner and another individual over forty years ago. Even at that time the owners had many previous years of experience in the packaging machinery industry. The era that encompasses the time that this company has existed has seen many changes; our machine designs and controls have evolved to keep pace. But the one thing that has never changed for this company is the motivation to stand by their product.
This is a great advantage for a business dealing with our company. The motivation to provide a machine or system that will fill the customer's needs is seen in all the company employees. Our service technicians are knowledgeable and accessible. Many times individuals from companies we deal with are on a first name basis with our designers, technicians or parts personnel.
Another consideration for potential purchasers is machine longevity. It is not unusual to find SPMC machines still in operation from our foundational days. For example, serial number 004 is still in operation at a tomato packing house near our factory in Florida City, Florida. SPMC machines can be found throughout the packaging industry in the factories and packing houses of many well-known companies. The large number of prestigious references are the clearest evidence of the high quality and reliability of SPMC technologies.
In summary, because of who we are, customers can expect a level of quality, attention to detail, and consideration they might not get at another manufacturer.
Contact Information
Thank you for your interest in Southern Packaging Machinery Corporation!